Daikin Company is a recognized leader in the market of climate control equipment. With their quality, design and cutting-edge functionality, air conditioners of this brand surpass equipment of other manufacturers.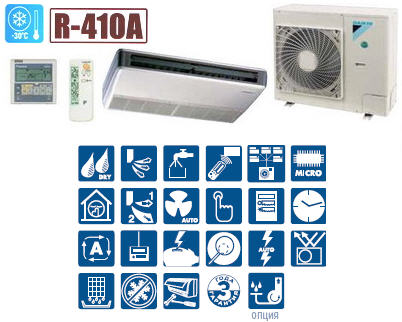 In operation, Daikin air conditioners are capable of satisfying even the most demanding customers that do not limit themselves in a permanent comfort, neither save on the latest engineering achievements and undeniable quality, absolute reliability and high style.
Daikin air conditioners provide precise temperature control, create the most suitable microclimate in the room even at the most extreme outdoor temperatures.
All new models employ exclusively ozone-friendly refrigerant (freon R410).
Daikin equipment owes its impeccable reputation to the best existing protection against faults.
Each new Daikin model has in it a modern design and the latest functionality using all the best from the previous model series.
Features
Depending on the model, modern Daikin air-conditioners are equipped with the following features:
| | |
| --- | --- |
| Timer on/off | Programmable timer to turn on/off |
| Auto | Automatic mode selection |
| Auto Restart | Automatic restart |
| One touch control | Single-tap control |
| Intelligent Eye | Human-detecting sensor "Intelligent Eye" |
| Home Leave Operation | Partial load mode in the absence of people |
| Self Diagnoses Function | Self-test functionality |
| Hot Start | Warm startup feature |
| Good Sleep Operation | Comfort sleep feature |
| Set Mode | Night-saving feature (energy saving) |
| Energy-Saving Technology | Energy conservation technology |
| PMV (Predicted Mean Vote) | Automatic climate control adjusted to weather conditions |
| Energy-Saving Technology | Energy conservation technology |
| Programme Dry Function | Programmable air drying in the room |
| 3D-Flow | Volumetric air flow spreading over the room |
| Air Purifying Filter, Photocatalytic Filter | Multi-stage air purification with photocatalytic function |
| Zigzag Skew Angle Random Pitch Fan, Enlarged Suction Inlet | Quiet fan with diffuser |
| Synchronized Aero Diffuser | Synchronizing diffuser |
| Indoor Unit Quiet Operation | Quiet indoor unit |
| Outdoor Unit Silent Operation | Quiet outdoor unit |
| PAM (Pulse Amplitude Modulation Сontrol) | Electronic power control |
| Auto Fan Speed | Automatic fan speed control |
| Night Reluctance DC Motor | Magnetoelectric engine |
| Swing. Scroll | State-of-the-art design compressor |
| Automatic Defrosting | Automatic defrosting (release from slight ice built up) |
| Super Multi Plus | Putting together a super multi split system |
| Anti-corrosion Treatment | Anti-corrosion protection |
| Washable Grille | Removable front panel allowing easy cleaning of the air conditioner |
| Wireless, Wired, Centralized , Touch Controller | Diversity of control panels |
| Antibacterial Layer | Antibacterial surface of the remote control |
Daikin Products Assortment